The following customer reviews are uncompensated in any way.
---

---
Super Avianti Artist edition
Frank Bouman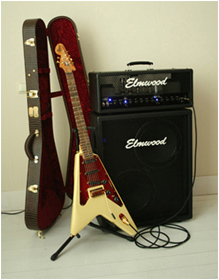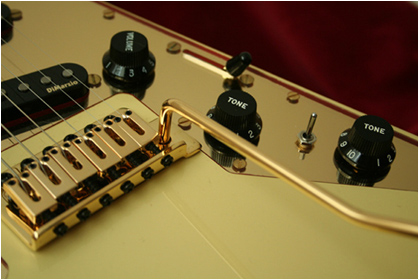 Well now, where to start with this review…Let me tell you something about me. I have been playing guitar for some 17 years. The first four years strictly classical and from then on mostly electric. The electrics I had were superstrats from Jackson, Carvin, Yamaha and Charvel. My Charvel (an '83 heavily modified strat head) was head and shoulders above the rest in terms of playability and sound. I have always played humbuckers and never, ever, played a strictly single coil equipped guitar. But, I really liked the sounds other people got out of their single coil axes and loved the sound of a single coil in heavier music (think Yngwie, John Norum, Gary Moore). Being a GAS-sufferer, I always have an eye open for great new gear and am interested in all things that bring something new, different or well-thought out to the table.
The first thing that struck me when I saw a picture of a Super Avianti on the internet was something like "whoah, what is that thing, that looks awesome!!!". I loved it the minute I saw it. The shape of the body, the reversed-looking headstock, the single coil lay out on a V, everything was different on this guitar.
Everytime something clicks with me like that, I want to find out all about it and that began my search on the internet for all things related to this special axe. Jamesbyrd.com and Byrdguitars.com, provided me with a wealth on information. The more I read, the more I realised that this might be the axe I always wanted but never knew of. I was marvelled at the amount of well thought out features on this guitar. The perfectly straight string pull, length and relative position of the wood grains in the body, the flush pickguard, special fret finishing…every aspect of this guitar just makes perfect sense. This is a guitar designed by a master player who has seen it all and knows what works best, you notice that everytime you pick it up.
For custom instruments like this, it always is a plunge in the deep because you just don't know what's it really gonna be until you have it in your hands, but I figured that I just had to take the change….and boy am I glad I did. So, a Super Avianti Artist edition it was gonna be.
After lengthy discussions with James on the guitar, I opted for a 3 stage finish, consisting of first a vintage white, then a gold pearl and lastly a clear coat over the light swamp ash body. This color combination is beyond awesome. Because of the 3 stage finish, the color of the guitar seems to change depending on the angle that you see. It can go from vintage white (more of a cream color), to goldtop-gold, to cream with shiny gold/mother of pearl edges. It is a dramatically good looking effect, just wonderful. To top the body off, I chose a gold mirror pickguard and gold hardware. So, the body is kind of flashy, some might say blingy, but it is still a very classy looking guitar. And wanted a guitar that I can still play without shame when I'm 60. Well, this thing will be with me until then, I can tell you that. Oh, and I have the special custom made Byrd Dimarzio's in it.
The neck of the guitar is also a work of beauty. Because this is the Artist edition, it comes standard with a beautiful flamed maple neck. Originally I opted for a snakewood fingerboard because that is flat out the most gorgeous wood I have ever seen used for a fingerboard. However, it appeared later on that there were some severe problems with the availability of a good snakewood blank that could pass James' test. Further, I began doubting the sonic qualities of the snakewood (sounding a bit darker than ebony), so I was kind of relieved when James told me that he wasn't to keen on using the snakewood because he does not want anything possibly inferior on his guitars (and that is something that you definitely want in a luthier). He informed that he knew of another fingerboard that could match the beauty of snakewood and probably would surpass it: a dark stained birdseye maple fingerboard. Now, I love birdseye maple, but had never seen it dark stained. James then informed me that it was also often used as an interior wood in Rolls Royces and Jaguars. Well, that seems nice enough, don't you think? Needless to say, I choose it. James than suggested to use round abalone inlays and even surprised me with abalone side markers. Together this combination makes for the most beautiful, head turning, drool flowing, GAS-inducing neck I have ever seen. The neck has a .780 C shape, with compound radius 7,5"-9,5" fingerboard and super jumbo fret wire.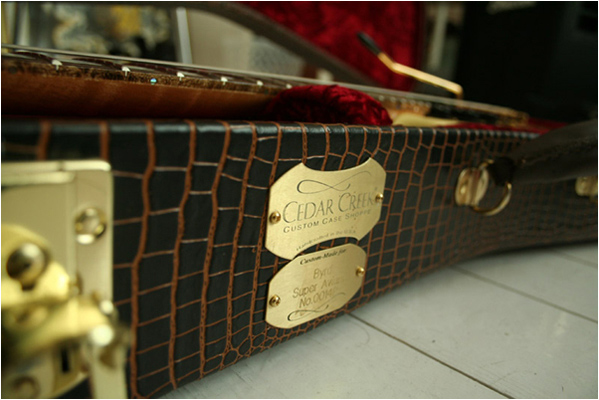 Well, I have talked about the neck and body…what else is beautiful about this guitar….THE CASE! I only found out later on in the waiting process, but James also offers custom build cases that fit the guitar like a glove. On request, you can choose the exterior and interior material yourself. I choose for a brown swamp alligator exterior, burgundy crushed velvet interior and brass hardware. It is hands down the prettiest case I have ever seen.
Well now, onto the sounds. When I picked the guitar up I was surprised how light it is. Easily the lightest wooden solidbody I have ever played and about as heavy as an acoustic guitar. You can imagine that this does wonders for playing it on gigs and you won't get fatigue or hurt your shoulders playing it for hours. Unplugged, the guitar is LOUD. I would somewhere between an acoustic and a normal electric. I'm sure you could use it for strumming in your livingroom. The sound is very nicely balanced with every frequency coming through just right.
When plugged it, you really notice that this is not your standard single coil guitar. It is far, far fatter than say a strat. You can easily play heavier rhythm on it and dropped D riffs are just awesome sounding. The sound is more open than you would get from a humbucker, with all kinds of beautiful harmonic overtones. A very rich sound that stands it ground when distorted. The tone of the neck pickup is very thick and gives you a great violin/voice like tone. This guitar can sing like the birds and growl like the beasts, whatever you want. The floating bridge works awesome and stays perfectly in tune.
What I also like about it is the optional sounds gotten from the 7th heaven pickup switching. The two extra sounds are great for clean sounds (try all three pickups together for an almost classical sound for single note lines and funky rhythm for chords and try the neck and bridge together with the tone of the bridge halfway for more of a Les Paul humbucking kind of sound).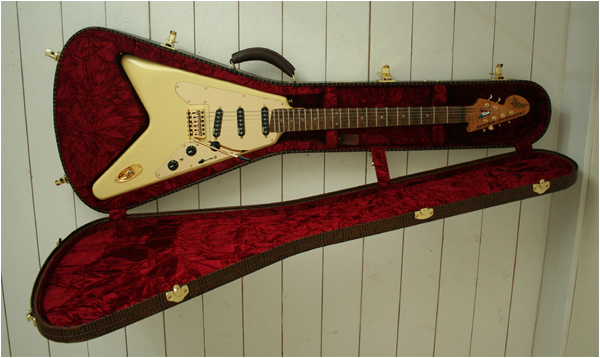 All in all, this is the best thing that happened to me guitar wise. I have never sounded so good (or looked so good on stage ;-) ). The playability of the guitar just about perfect. I was coming from a Charvel strathead (famous for the playability) and this guitar is easily on the same level and so much more. It took me some time to get used to the single coils, having used humbuckers exclusively, but the sounds are absolutely awesome. I can get more singing, lighter, fatter and better sounds out of this guitar than I got out of any of the other guitars I played. It's just all there at the flick of a switch (or two).
One more thing about this guitars playability is the comfort of playing it standing or sitting down. When sitting down, you do need to take the classical position (between the legs) but this provides the best hand and wrist position for playing (it isn't called the classical position for nothing). On a strap, the guitar is light and perfectly balanced, fitting great against my unfortunately ever growing belly and providing a nice rest for my right arm on the curved upper wing.
Are there any negative sides to this guitar?? Hardly! For me it only was the increase in waiting time (it took me about 16 months, but in the end, it was all more than worth it and for an instrument like this, I would have settled for a waiting time twice that) and the fact the abalone side markers, while beautiful, can be somewhat difficult to see on a dark stage.
Coming to the end of this lengthy review, I want to express my thanks for James for all the care he has taken with building me this guitar. Honestly, I feel that I not only got myself a great axe, but also a great teacher and friend in the process. I cannot recommend James's services and his guitars enough.
---
Super Avianti Artist Signature Edition
April 2007
Plymouth, Devon
United Kingdom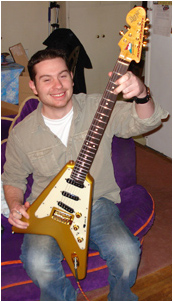 This is my second Super Avianti, my first is an early prototype model but this review will focus on my new production model (you could call it an addiction).
Well what can I say? Quite simply if you have looked through the website and don't have G.A.S. for one of these then you must seek medical help right now! This second guitar in my Super Avianti arsenal is in a totally flawless Pagan Candy Gold finish with a vintage ivory scratch plate. The PCG finish has such perceived depth to it terms of finish quality (on a visual perspective, not actual finish depth) its way above many top end custom shop guitars I have seen – flawless.
I went for a rosewood fingerboard which I believe is the first production SA to be ordered with one and the grain on the rosewood is stunningly beautiful, no anaemic looking grain here which looks even more jaw dropping against the clay fret markers. I selected an asymmetrical neck profile with a depth at the 1st Fret of .815" which was to mimic my favourite neck on my early Peavey Wolfgang Standard along with a compound fingerboard radius and satin finish on the back of the neck – smooth as silk. This neck fits my hands perfectly and the sheer fact you can select your own neck depth and shape wins extra points in my eyes. The neck is topped off with 22 superbly dressed jumbo frets and a brass nut. Gold hardware and vol/tone control knobs complete the look to classy effect, there is a nice vintage vibe going on here.
For pickups I went with a DiMarzio Virtual Vintage 54B in the bridge (I pickup I know well on my other SA) but decided to try a DiMarzio VV54 neck pickup also (my other SA has a DiMarzio YJM) at James' recommendation and I couldn't be happier with the choice possessing much more body, better suited output and superior tonality over the YJM. In the middle is a stock Virtual Vintage.
The construction of the instrument is second to none, everything from the neck socket, to the neck heel and inlayed pick guard are what not only makes this a unique guitar to look at but also a totally unique player, once you have spent some time with a Super Avianti you will find it hard to go back to 'other' guitars.
The guitar is light and resonant, I have never played another electric guitar that has this amount of acoustic volume, and also the resonance of the instrument can be felt on the fretting hand and also on the right arm when resting on the upper horn, in short this guitar is ALIVE! This 'feel' makes you feel more at one with the instrument and seems to bring out a little more mojo in your tone. This acoustic energy bodes very well for the amplified test and I am more than pleased to report it delivers even more in this respect. This guitar is harmonically rich, with a great even temper between tones all over the neck (many old Strat's of mine used to boom on certain notes which really annoyed me) and the sustain is immense, I found that I am able to use the same gain setting as I do with much higher output humbucker equipped guitars yet get better sustain and improved note definition due to the preamp not being pummelled so hard.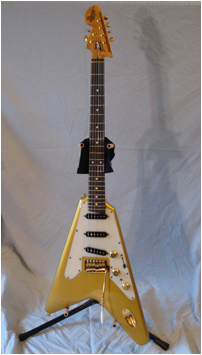 Whatever your playing style the Super Avianti can deliver. My main passion is for neo-classical metal and classic rock e.g. Byrd, Malmsteen, Blackmore etc… and this guitar delivers that sort of tonality in bucket loads i.e. equally at home with punchy rhythm parts and fluid lead lines. Due to the rosewood board this guitar is a little closer to the Blackmore tone compared to my maple neck prototype SA, if you like that tones that Blackmore got on Deep Purple Mk.III live recording and early Dio era Rainbow then you will love this guitar. Yet the guitar is equally at home in blues waters and does a superb SRV / Trower / Hendrix tone which I never got out of any Strat I owned. In clean waters the extra 2 sounds given by the 7 way switching really comes into its own, adding an almost acoustic quality to the tone, add some reverb and you are in the land of crystal dreamland.
As for playability, well playing a V shaped guitar is slightly different at first, however if you are used to playing with you guitar on your left knee (i.e. the classical style) then you will have no problems with the SA. I completely love the unrestricted upper fret access, and given the way you have to have the guitar when sitting means you fretting hand automatically falls into the correct posture for bends and vibrato. Has this guitar made me a better player? Well it makes me want to play the guitar more so that must surely add up to being a better player over the long term. But tonally this guitar has made me a better sounding player.
As with some of the other testimonials James Byrd has REALLY come up with something unique in the Super Avianti. If you are after an individual guitar that plays better than many custom shop instruments for less cost, with simply superb customer service (James was always just an email or phone call away) and want a guitar that will make you stand out from the crowd then the Super Avianti is the instrument for you. The only problem is I want more of them! If you want to ask me any questions then feel free to email me at strat110(at)hotmail(dot)com.
---
Super Avianti Artist Signature Edition
Rich Beezhold
Phoenix, AZ
10th October 2006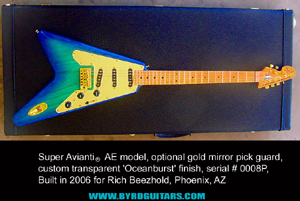 I've had the Byrd Super Avianti for a couple of weeks now, and it's hard to put down! I expected it to be awesome, and it has not disappointed. It has inspired me to play more than I have in many years, and reminded me how much I enjoy playing. So in that regard, it's worth every penny I paid. It's truly a pleasure to play, to look at, and to hear. I can't imagine
a guitar being more comfortable than the SA. It's light weight, perfect balance, contoured and narrow body, ergonomic neck joint and custom- shaped neck make for hours of fatigue-free playing. My neck profile is similar to an Ibanez Wizard, with a straight 12" radius. With the 6000 frets, it feels great. The fretwork is flawless. Imagine your perfect neck, and Byrd can duplicate it.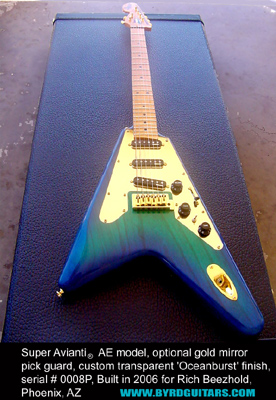 I've never been a Fender guy, so I was looking for a fatter sound than the Virtual Vintage models that Byrd and many Strat players prefer provide. On the other hand, I wasn't too keen on the ceramic magnets offered in the high-output, humbucker-like DiMarzios. So I settled on these- DP404 VV Solo in the bridge, DP414 VV Solo Pro in the middle,DP403 VV Heavy Blues in the neck. This combination is well balanced in both output and frequency response. I really like the Solo Pro in particular, it has a singing quality that sounds really good to my ears. The 7-way switching and tone control set-up are very useful and add many combinations not available on a Strat. As far as duplicating a regular humbucking sound, you can get close, but it's not exactly the same. I'm sure a quality 'bucker such as a High Order would sound great in the SA. Truth is, this guitar would make any pickup sound better.

A word on the sonic properties of the SA. You WILL NOT play a guitar that resonates like the SA. Played acoustically, it is loud and full. Strum an E chord, and you can feel the body vibrate against your stomach! Hell, you can feel the neck vibrate with the palm of your left hand as you play. Plug in, and the first thing noticed is the bass response than belies the light weight. All of Byrd's theories about bolt-on necks, V shaped bodies, 6 point tremolos....well, let's just say that I'm a believer!

The more I play the SA, the more I marvel at it's design, and it's execution. The tremolo stays in tune. The finish is a thing of beauty. It plays like a dream. It will sing or scream or anything in between. Ultimately, I got exactly what I was looking for-a guitar to cherish. I never thought I'd spend this much on a guitar, but in retrospect, it was money well spent.
My hats off to James Byrd, he's really on to something. If you love to play, I can't imagine anybody not loving the Super Avianti.

---
Super Avianti Artist Signature Edition
Ara Kalaj,
LA, USA
6th October 2006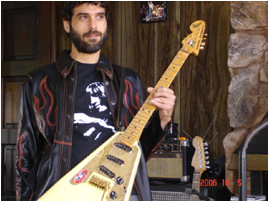 Well, the wait is finally over ...

First off let me say I've never owned or played a scalloped neck so this was a first for me.

But on to my review ...

My Super Avianti arrived the other day. My first impression upon opening the case was, WOW!

What a killer LOOKING guitar, very cool color. Really beautiful in *classy* way not just ANOTHER clone but a totally unique guitar, it's not easy to be unique, beautiful and cool, but Byrd has pulled it off ... in a MAJOR way!

One thing that jumped out at me was how light the Super Avianti is. V's can be somewhat awkward to play, but the Byrd is - HANDS DOWN - thee most comfortable V, PERIOD! The top countour is perfectly placed. Right under my stomach, perfect for me. In terms of feel; The left hand is feeling nothing but Strat, while the right hand is *reminded* of a Flying V.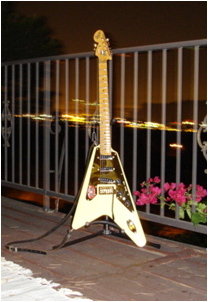 As for the frets: flawless! (As was the finish, btw)

The scalloping is also SPOT on. The location and depth is just perfect; right where your fingers go naturally. For someone with fairly large hands and long fingers , I find that the neck shape is extremely comfortable. It is much easier it is playing in the higher fretareas of the neck because of the ultra-sleek "heel." Also the extra spacing on the treble side of the neck (different string spacing). It is so incredibly cool to have that little extra space for extra wide vibratos (having no fear of falling off the edge of the board)."


Next came the acoustic test; I put on a strap (locks) and strummed a few open cords, to my surprise, what I heard was a very balanced sound, not thin or tinny AT ALL - not lacking (or boosting) in lows, mids or highs, just a very balanced and more importantly ... *resonant* tone. In the past the V's I've played fell flat on their face in the acoustic/clean sound category. Not so with the Super Avianti. I'd say it's very much in the Strat end of the spectrum, acoustically. Exactly?, no not *exactly*, because it's not a "Strat." However she is *extremely* similar sounding to the Strat. What she is, in my opinion, is the best qualities of two very different but killer guitars - the Stratocaster and the Flying V. I'd say the Byrd is 90% vintage Strat, 10%, '70s Flying V, give or take about 5%.

* One thing to understand is that this guitar when plugged is an absolute beast, no, a DEMON! EXTREMELY aggressive tones!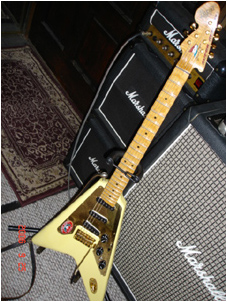 The sounds of the Schenker brothers (V) were engineered and designed into this guitar, as are the sounds of Ritchie, Yngwie, Uli & Matthias. Yes even Jimi ... maybe not the in-between sounds of Jimi - think 'Voodoo Child (Slight Return)' or 'Machine Gun' more so than 'Little Wing'. The ears are hearing the bite, sweetness and openess of the Strat but added to that are the lows, grind and edginess of the Flying V - again, thee best qualities of two killer guitars.

The DiMarzio's and the Super Avianti WILL(!) produce THEE fattest grindy-est, meaty-est tones as ANY(!) guitar (weighting 2 or 3 times as much as the Byrd), PERIOD! These DiMarzios have won me over, me being a 'vintage' tone lover. The growl, bite and grind the DiMarzios put out is simply AWESOME!

Harmonics seem to hate this guitar, because they SCREAM and leap off the fretboard with the slightest effort (a good thing, btw). The tremolo stays in tune extremely well (dive dombs come back in tune!), I wonder how she'd sound with the 'Vintage' type saddles, though?

The extra two pick-up options are pretty cool too, I'm sure I'll be using them MUCH more as I get more comfy with my Stefania.

This guitar BEGS, ACHES to be riffed and shredded on till there's no end. In my opinion Jimi (and only Jimi) made the Strat eventually give in and submit (Woodstock, etc etc), but the Super Avianti challenges, no, DARES ANYONE (including Byrd and Yngwie, etc) to make her submit. Something I'd LOVVVVEE to see, I'm sure it would be a bloodbath!

I can say without the least bit of doubt that the Super Avianti has 'allowed' me to play faster and cleaner, how? the scalloping?, neck?, it's hard to say for sure but I definitely play faster and cleaner now, that much IS a fact.

I would like to Thank James for;
1) for making the guitar available to the public, and
2) for taking the time to call personally to discuss setup and other adjustments, as well as speaking freely about various things. Thanks bro!

I simply CANNOT put this thing down!


---
Super Avianti Artist Signature Edition (w/ hard tail bridge option)
David Stoddard
Florida USA
Sep 23, 05 - 6:56 AM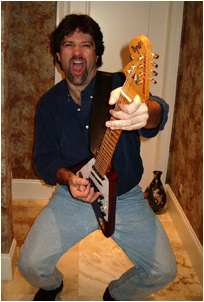 I wanted to give an unsolicited review on my Super Avianti which I've owned now for over a year. The model I have is one of the latter preproduction ones and is a beautiful Candy Apple Red hardtail version with a scalloped maple neck and DiMarzio pickups. The craftsmanship of the guitar is top notch. Everything from the fret work, the scallops, the paintjob, the shape of the neck and the way the neck joins the body is perfect. It's one of the few guitars that I still pick up and look at closely to admire it's design and looks before I play it.

I had mixed feelings about this guitar at first not having a tremolo, but that is no longer an issue. The tones that I can get out of this guitar are phenomenal. I have been a strat owner all my life, from vintage to custom shop, and always went for a 'Fat Strat' sound. I like the Gibson double coil sound as well, but not really for my own playing. I purchased the Super Avianti thinking that it would be the ultimate 'shred machine' with the 'ultimate' strat sound to boot. In hindsight that all seems amusing now because I wasn't prepared for what this guitar was going to do for my playing. The Super Avianti can be a 'shred machine' with a (stinging or fat) strat sound beyond belief, if you want that, but it has such a beautiful voice of it's own nature that I found myself exploring different tone variations which thusly lead me to try different playing techniques that I normally wouldn't fool with. An example of what I'm talking about is this: I love the Neoclassical style and sound and can get it in spades with this axe, but lately I've been listening to a lot of Grateful Dead (ya, I know I'm getting old :) or more to the point, Jerry Garcia. His tone is a thick double coil sound that is somewhat clean and really dynamic upon his playing technique. I can get that sound on my Super Avianti by using the neck & middle pickup with the toggle switch in the up position and the neck tone control turned down to about 2-3. Then if I want to go to full bore strat sound, all I have to do is hit the pickup selector to the neck position and the toggle switch down (I can do all of this in one motion) and BAM! - screaming single coil strat! Other sounds that I can get with the Super Avianti are Graham Oliver's biting SG tone and Uli's Sky guitar sound as well (I wish I had his technique though!). And finally, I can get that John Scofield sound (from his Bump release) too. Amazing!

The guitar's tone is so transparent (or acoustical, if you like) that it only takes a subtle variation in setup choices to achieve a wide range of sounds. Probably the most telling fact of this guitar is that I rarely use my overdrive anymore with this guitar. I much prefer to plug straight into my Marshall so that the sound of the Super Avianti is pure and can be molded into whatever I'm in the mood for. I love playing my old favorite stuff on it, but now I'm more open to trying things that I never would have considered before.

Thanks for turning me on to the Super Avianti James!
Dave

---
Super Avianti Artist Edition
Jim Baker
Chester, Cheshire
United Kingdom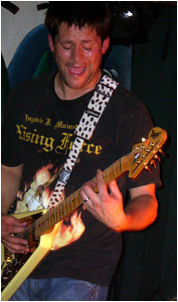 Okay, I have owned lots of guitars from Gibson (LP's and SG's), Fender (strats and tele's), Jackson (custom shop soloist), Ibanez Jem and GMW custom flying V's. I have also had all manner of pick ups in the guitars (from EMG's through to DiMarzio, Seymour Duncan, Gibson and Fender). I still own a Fender YJM strat and a GMW custom V in addition to my SA. I only mention this, so you get a feel for what I can compare the SA too.

First things first, this is just the coolest looking guitar I think I have ever seen - I love strats and flying V's and this is just the perfect blend of the two. Not the most important feature by any means, but looking cool is major plus.

From a quality point of view, the guitar is fantastic - a particular mention has to go the fretwork, which is absolutely incredible. The finish of the neck is also to die for and James accommodated nearly every one of my requests (more on this later) including a brass nut, which again is perfectly cut - rock solid tuning regardless of the trem abuse.

Apart from the jaw dropping looks, the first thing that really grabbed me was the playability. You know from the second you pick this guitar up that it has been designed by a guitarist. It is light, fits snugly into the body, all the controls are so intuitively placed but above all anything else from the second I played it, it felt like I had played it all my life - never before has a guitar felt so comfortable from the off.

One point of note though, is this guitar is not designed to be played sitting down - it is possible and slightly more comfortable than a flying V, but it is perhaps its one small downfall (I also took a little while to get used to the tuning peg arrangement).

Right - onto the sounds! -When I first ordered the guitar it was going to have a humbucker in the bridge - James was reluctantly going to do this, but eventually persuaded me to go with the SC's - he did agree to supply me with the scratch plate for the HB though. Now my set up is a ENGL RB amp through a Mesa recto cab and I only use the gain from the amp. I really did not think the sc bridge pup would give me the crunching rhythm sound I wanted - I play in a three piece band and mainly use my GMW V with DiMarzio Air Zone in the bridge . When using my strat through the same set up (YJM with VV 54b in the bridge) it was what it was - a strat! Now this is where I was astounded - The SA has exactly the same bridge pick up as my strat, but the difference is night and day - the sheer depth and richness of sound is incredible - It is not a full on HB sound, but you can still chug it, make it sing and harmonics squeal all day for fun. For me, the sound is so much fuller than the HB because it covers a much wider sound spectrum (if that makes sense??).

To try and describe the difference another way is that a humbucker has a very fat and full sound, but fairly compressed (with a lot of gain) - the SA sound is wide open and multi layered - so much fuller sounding - certainly in the context of my three piece band anyway. Backing off the volume just cleans things to a fantastic crunch sound - every single note leaps out.

On the lead side of things, it really does sing and the neck pickup is more closer to the Malmsteen, but with more of a vocal quality to the sound.

Acoustically and played clean, there are tones in abundance within the guitar - the extra switching gives lots of variety. The usual strat sounds are within, but again there seems to be a wealth of depth to the sound. I really can only attribute this to the construction.

To try and describe the guitar in simplistic terms, it takes everything that I love about my Malmsteen Strat and everything I love about my flying V and blends them into one. Far from being a compromise, it stands out a mile as my best instrument in terms of playability, sound and looks. I just love playing and hearing the SA!!!

Finally, I think the price point of these guitars is very well placed - real custom instruments that play as well as they look!

---
Super Avianti Artist Signature Edition
Jan E Rein
Hafrsfjord, Norway

Hello again James
Thanks for building me such a GREAT guitar ..I'm so satisfied with the Super Avianti. The tone and the playability is awesome. I just love it.
Thanks again James !!!.You are a true master.

---
Super Avianti Artist Edition
Joe Badalamente
Philadelphia. USA,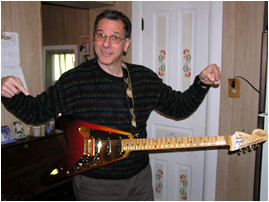 I am an avid player and teacher of guitar. All of my equipment is of the highest quality.
The guitar is a pleasure to play, in a word "very musical".
I have another custom / modified guitar that I have not played since I got the Byrd. I've also noticed that I am playing a lot more. I've had to modify my amp settings and the guitar definitely took some getting used to (due to changing from 11s to 10s on the strings while still maintaining a quality sound) and the shape also took some adjustments on my part, but it was well worth the change. I love what Byrd did with the color that I literally described to him on the phone. The pictures do it NO justice. I would highly recommend this guitar to any serious player.
---
Super Avianti Artist Edition
John Jaunese (www.myspace.com/johnjaunese)
Portland, USA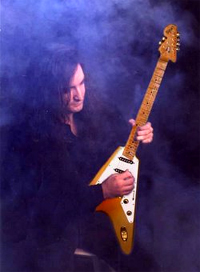 On the verge of possibly buying my third Super Avianti, you can probably get the idea. First let me say that I will NEVER buy a signature guitar from any artist no matter how good they are, or how much I like the playing. Why, because you most likely won't get the same guitar. Pretty simple, I think.

The Byrd Super Avianti is not a signature guitar as you have probably figured out by now. The guitar was built for people who can actually play. I know that may discourage some potential buyers, but oh well.

I have had nothing but compliments on the TONE of this guitar, and it looks like a six string Ferrari! and that can't be a bad thing. I actually can say I play with more emotion since getting the first Avianti. Only PART of that is from the pickups (DiMarzio) which sound unbeatable tone-wise. Sorry EMG, for they are actually my Endorsement company!


---
(c) 2005 - 2014 Byrd Musical Instrument Company, all rights reserved.
The terms "Super Avianti" and "Balance Compensated Wing" are registered trademarks of Byrd Musical Instrument Company. When referencing them, they should be accompanied by the (R) symbol.
Prices, specifications, and availability of options are subject to change without notice.